Your donation will support the distribution of the 62-minute Keeper of the Beat DVD with Special Features.
Be sure to choose your gifts by following the instructions at the end of this page.
DONATIONS MADE TO IDA ARE TAX-DEDUCTIBLE.
Making a donation is quick and easy...

OPTION 1 (Not tax-deductible)
Donations through PayPal
(No paypal account required)

OPTION 2 (tax-deductible)
Donations through our fiscal sponsor,


STEP 1: Determine your donation amount (See list below.)

STEP 2: Click on the Donate button below to go to our Fiscal Sponsor partner, IDA.

STEP 3: Enter the amount of your donation on the Contribute form and follow provided instructions.
OPTION 3 (Tax-deductible donation by check, payable to IDA)
IDA • 3470 Wilshire Blvd., Suite 980 • Los Angeles, CA 90010-3900
IMPORTANT: Be sure to include Keeper of the Beat in memo of your check
and address envelope ATTN: Financial Dept.


DONATION GIFTS
All KOB DVDs sent as of 4-25-19 will have the new cover below.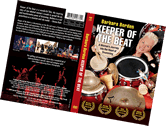 1.
10 KOB DVDs with Special Features plus
Any Combination of DLB DVDs and/or BB CDs Totaling 6
Plus KOB Screening in Your Home with DLB & BB For Q & A and BB Drumming
$5,000
2.
5 KOB DVDs with Special Features plus
Any Combination of DLB DVDs and/or BB CDs Totaling 5
Plus Dinner in a Lovely Restaurant with DLB and/or BB
$2,500
3.
5 KOB DVDs with Special Features plus
Any Combination of DLB DVDs and/or BB CDs Totaling 5
$1,000
4.
4 KOB DVDs with Special Features plus
Any Combination of DLB DVDs and/or BB CDs Totaling 4
$500
5.
3 KOB DVDs with Special Features plus
Any Combination of DLB DVDs and/or BB CDs Totaling 3
$250
6.
2 KOB DVDs with Special Features plus
Any Combination of DLB DVDs and/or BB CDs Totaling 2
$100
7.
1 KOB DVD with Special Features plus
1 DLB DVD or 1 BB CD
$50
(Please indicate if you would like to remain anonymous)
To see selection of your gift DVDs from David, please CLICK HERE
To see selection of your gift CDs from Barbara, please CLICK HERE
When you know which DVDs/CDs you'd like, include them in EMAIL HERE